November 26, 2019
In
Blog
Thermal Reconditioning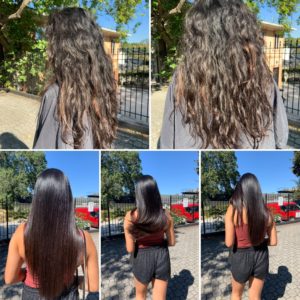 In 1994, I had the good fortune of being introduced to one of the first people to do Thermal Reconditioning (TR), also known as Japanese Straightening. I immediately sent my salon team to be trained on the service and we have been doing TR ever since. Not being satisfied with the scientific portion of the training, I contacted independent chemists who provided me with the most technical knowledge available to continue training my staff. For the first 3 years, we were the only salon in the Eastern United States providing this service. We had clients from Boston to Miami, and even as far west as Texas. As with any service in our industry, the popularity of the service drew more stylists to it. Although the number of people providing the service has grown, the knowledge required to do TR correctly has not.
This is the only service that we do on hair that I can say is truly life changing.
If you find yourself having to plan exercising around styling your hair because sweating makes your hair frizz, then TR is for you!
If you can't go in the pool or the lake with your friends or family because your hair is out of control when it dries on its own, then TR is for you.
If you spend 30-45 minutes styling only to be slightly satisfied with the outcome, then TR is for you.
If you wake up and it is very humid or raining and you know it is going to be a horrible hair day, then TR is for you.
If your hair has a life of its own, TR is for you.
I am often asked if Thermal Reconditioning can be done on African-American hair and the answer is absolutely, yes. We do TR on African-American hair all the time and the results are far beyond the results of traditional relaxers.
The other question I hear a lot is "is Thermal Reconditioning the same as Keratin Smoothing?" The answer is NO, not at all. Simply put, Keratin works on the outside of the hair, while Thermal works on the inside. We also offer Keratin Smoothing, but it is important to know that it is only effective in certain types of hair and it does not straighten. In some cases, it does minimize frizz.
The active ingredient in Thermal Reconditioning solution actually softens the covalent bonds that connect the amino acids that form the fibers that make up your hair. Once these bonds are softened, your hair can be permanently re-shaped, in this case, becoming straight. Once straight, it is then neutralized, which starts the reconnection of the connective bonds.
In short, if you are considering this process or have any questions, why not ask us? We are Thermal Reconditioning/Japanese Straightening specialists.